The Southern Newfoundland Club (SNC) was formed in 2008 and is registered with the Kennel Club and recognised as an official UK Breed Club.
The club aims to promote, protect and preserve the Newfoundland dog breed by the involvement of the Club and our growing membership in Working, Showing and Welfare activities.
We are particularly keen on encouraging participation and involvement by our junior members so we feature prominently their results and achievements on this site. New pictures, announcements and other features are added regularly ... so please visit often!
Read More
Our content is produced largely from the photographs and information provided by our members so please send in your pictures, comments and suggestions to:
web@southernnewfoundlandclub.co.uk
.
2022 Newfoundland Of The Year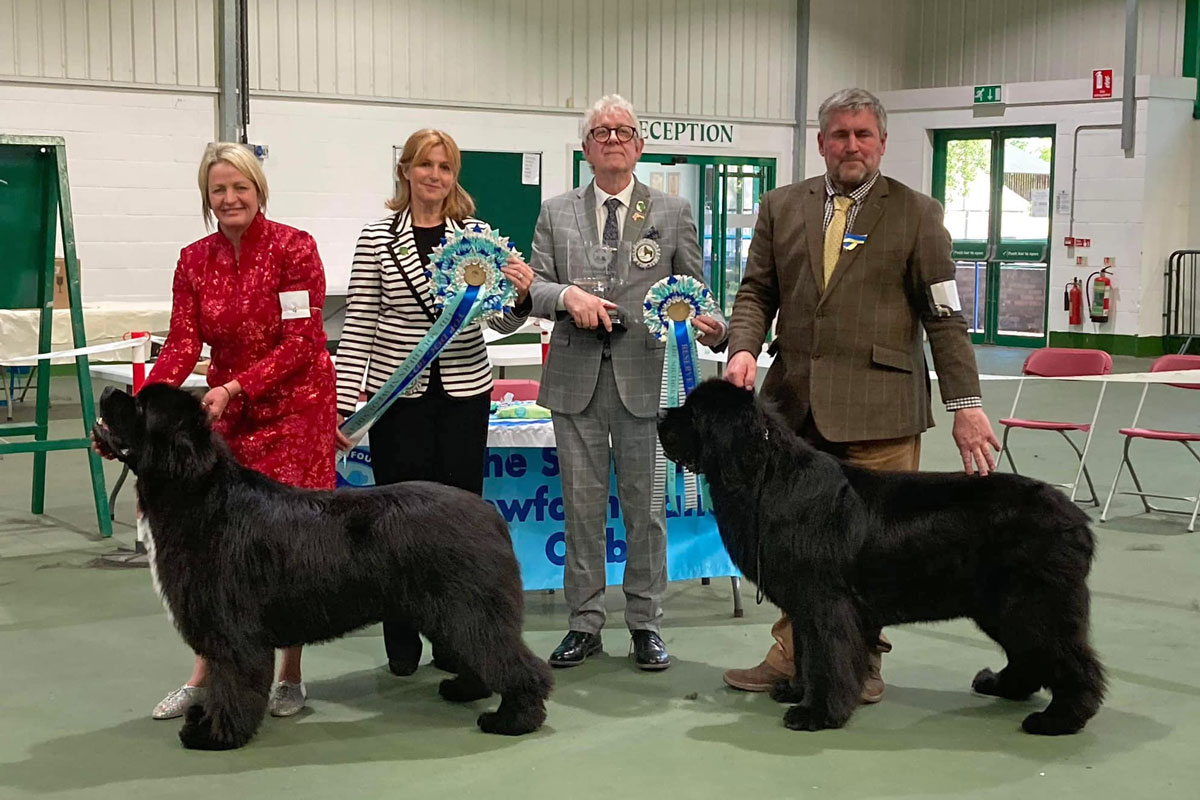 Congratulations to Suzanne Blake with Sandbears Masterpiece on winning NOTY 2022 and to Colin & Jane Sayle with Ch. Baranova Top Gallant as Reserve NOTY. Judges were Terrie Cousins and Russell Jones with Hedd Richards as Referee.
The Annual Newfoundland Breed Celebration Day at the Kennel Club
Monday 04th July 2022

NEW DATE: Monday 19th September 2022
Venue:
16 Clarges Street
Piccadilly
London W1J 8AB

Schedule:
11.30 am Tea/Coffee upon arrival at the Kennel Club.
11.45 am Library Talk/Gallery Tour
12.30 pm Pre-lunch drink in the Bar
1.00 pm Lunch in the Dining Room
After lunch, visitors are welcome to return to spend further time in the library and gallery.

Dress Code: Club rules apply: gentlemen are required to wear a suit or jacket and tie, similar standards are expected of ladies (smart trouser suits are acceptable). Jeans, leggings and trainers are not acceptable.
How to Book: To make a reservation, and for payment details (via Bank Transfer or cheque) please contact Pat Ford by telephoning 0207 518 6894 or by emailing pat.ford@thekennelclub.org.uk Payment is required in advance.
Cost: The cost of the event will be £45.50 per person to include a glass of bubbles, a three course luncheon with wine, followed by coffee and chocolates. Should you or your friends have any particular dietary requirements, please let Pat know when making your booking.
Membership Renewal for 2022
Subscription renewals for 2022 were due by 31 December 2021.

If you haven't renewed already you can renew online using PayPal (below)
Please note that payments via PayPal include an extra £1.00 to cover the fee they charge to us.
Alternatively, you can renew by post using the downloadable form and sending it completed to our membership secretaries with your payment.
Post:
Chris & Jerry Bligh
The Bounty
Salines Lane
St. Sampsons
Guernsey
GY2 4FL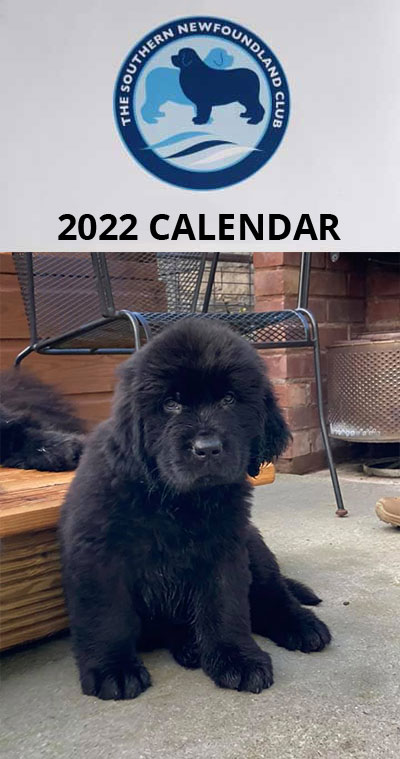 Available to order now
Our calendar for 2022 can be now be ordered. It is again available as both a wall calendar and as a desktop calendar. You can order online with PayPal (please remember to specify which type you want when ordering) or by email from our News Editor, Sara Davies.
Profits from sales of the calendar go to the SNC Welfare fund so why not order some extras, they make a great gift.
The Southern Newfoundland Club together with the Newfoundland Club and the Northern Newfoundland Club are pleased to announce that new Draught Test Regulations have been jointly agreed and came into effect for official Draught Tests held by all three clubs from 01st October 2019. The new Regulations will be reviewed in 2020 in the light of any written comments received.
There is an Addendum to the Regulations relating specifically to Draught Tests held by the Southern Newfoundland Club which can be downloaded here.