Next Issue
Coming Soon
NEXT EVENT
WATER TESTS
Sunday 19 May 2013
All Sections A - E


Grangewaters
Buckles Lane
South Ockendon
Essex, RM15 6RS

Hosted by Grangewaters Working Newfoundlands


Click here for the Schedule
Working Pictures
Click on the pictures to visit the gallery
NEW STUD BOOK BAND
In 2012 the Kennel Club moved Newfoundlands to Stud Book Band C (from Band D).

Stud Book numbers are now awarded only to the 1st and 2nd in Open and 1st in Limit Classes at Championship Shows where Challenge Certificates are on offer to the breed.

Challenge Certificate, Reserve Challenge Certificate and Junior Warrant winners still qualify for a Stud Book number, as before.
Welcome to the SNC web site
The Southern Newfoundland Club (SNC) was formed in 2008 and is registered with the Kennel Club and recognised as a UK Breed Club.
The club aims to promote, protect and preserve the Newfoundland dog breed by the involvement of the Club and our growing membership in Working, Showing and Welfare activities.
We are particularly keen on encouraging participation and involvement by our junior members so we feature prominently their results and achievements on this site. New pictures, announcements and other features are added regularly ... so please visit often!
Our content is produced largely from the photographs and information provided by our members so please send in your pictures, comments and suggestions to:
web@southernnewfoundlandclub.co.uk
SNC JUNIOR HANDLER OF THE YEAR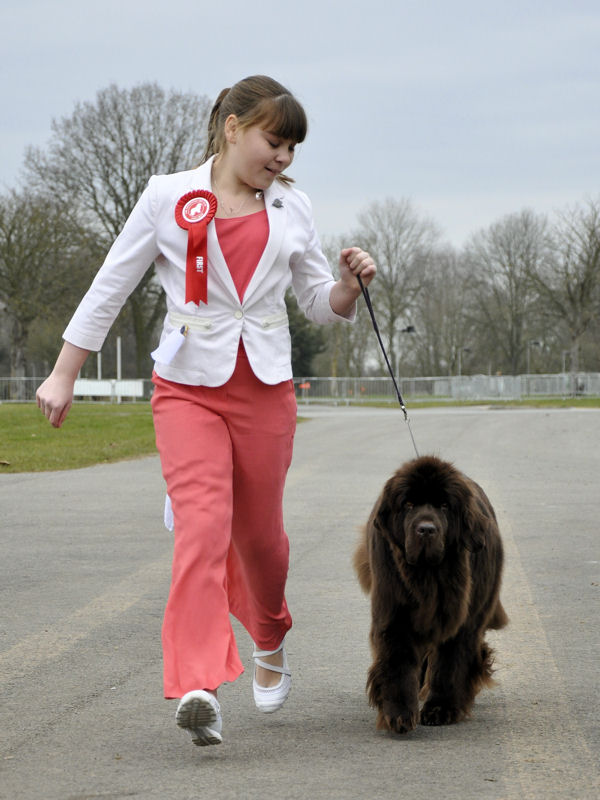 At the SNC AGM on 16 March, Nicole Owles was awarded Junior Handler (Showing) of the Year 2012. Enthusiastic, dedicated and skilled, Nicole has won numerous handling competitions culminating in winning the Young Kennel Club Handling (6-11 years) competition at Crufts on 10 March 2013.

Nicole is pictured above with one of her regular charges, Coldwell's Zentaur Tee Tea Effen, JW ShCM.
Congratulations Nicole Owles
THE SNC's WELFARE WORK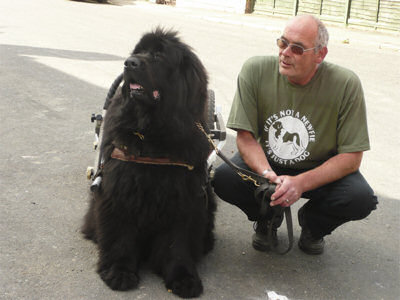 Please contact the SNC's Welfare and re-homing coordinator, Ian Hutchinson, if you need help. His phone number is 01353 665280. More details of the SNC's welfare work can be found on our welfare page.
A big "Thank You" to everyone who has re-homed a Newfoundland, offered help with fostering, home checking and transportation - it is greatly appreciated.
Donations to SNC Welfare and Rescue gratefully received
New Members Welcome
Annual Membership
Full Single ................. £18.00
Full Joint .................... £23.00
Junior (under 18) ........ £5.00

Download our 2013 New Membership Application form



Download a 2013 Membership
Renewal form
---
Chris and Jerry Bligh have taken over as our Membership Secretaries and we are very pleased to welcome them both to that role. Please send new membership enquiries, applications and renewals to them with immediate effect, their details are on the forms.
Overseas members also welcome
ATTENTION JUDGES &
OPEN SHOW SECRETARIES !
Show Secretaries, are you scheduling separate classes for Newfoundlands?
Judges, have you accepted appointments to judge Newfoundland classes at an Open Show?
Get a free listing in our Open Show Calendar
The Southern Newfoundland Club is keen to promote the scheduling of classes for Newfoundlands at KC licensed Open Shows and actively encourage our members to support such shows. We invite Secretaries of canine clubs and Judges who have accepted appointments to judge Newfoundlands to contact our show list co-ordinator Liz Shears by email with details and we will include the information on our Open Show Calendar page, free of charge.
The SNC is committed to the development of judges for Newfoundlands, both specialist and non-specialist and we maintain a list of judges which can be downloaded here (updated April 2012).
In some cases the SNC are willing to provide sponsorship, on application. Again, please contact Rachel for details.
Click to view the Open Show Calendar
Fun Pictures
Click on the pictures to visit the gallery
BEHAVIOUR HELPLINE
Following the 2012 Seminar on Temperament, a new FREE service was launched for our members.

Kristina Glover, a highly qualified and experienced animal behaviourist, provides confidential professional advice by telephone and the cost of her consultancy is paid for by the SNC.

After a successful trial period the scheme has been extended and is ongoing.
Full details on the Behaviour Helpline page